Note: This piece was written on Tuesday, Sept. 7.
Let me start by saying how much I love the public schools in our rural North Carolina county.
My son has had a wonderful experience at our local elementary school, when he's been able to attend, over the past three years. Over those same three years, I've worked for our district as the Spanish-language liaison.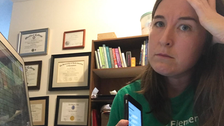 Now, let me start again by saying how much my heart is broken.
Those three years have been years marked by COVID-19. My son's kindergarten year, cut short. His first-grade year, with three different teachers, a period of virtual school, six months of homeschooling, two months in person. Second grade, now, defies description.
I haven't said much to anyone about what I'm witnessing. I have to connect with people on all sides of the spectrum without putting them off, so I can get them the information they need. I flow like water through beliefs, terrors, confusions, desperations. With each phone call, I close my eyes and try to make myself a blank slate until I can read where this person is and respond as compassionately, as firmly, as helpfully, as urgently, as effectively as I can.
In the high country of Appalachia, with fewer than 18,000 residents in our county, it took COVID a while to reach us. But it's here now. Since 7:30 this morning, I've done nothing but make COVID calls. In regular times, my job involves a variety of things: tutoring newly arrived students; interpreting Individualized Education Programs; refereeing meetings with counselors and principals; translating documents; relaying messages about soccer practice, the school play, a forgotten trumpet. But now it's just COVID. All-day and every day, COVID.
Yesterday, I foolishly didn't look at my email for a few hours. It turned out I'd missed an entire class going into quarantine ― a dozen students whom I failed to call, who showed up to school this morning only to be sent home again. "But my child was wearing his mask," one mother says, bewildered when I finally call. "Why does he have to quarantine?" Because the other child, the positive case, was not wearing a mask, I explained.